Four Important Things to Consider
Before you hire a cleaning service, it's wise to get a few different quotes from a few different cleaning services. There are four major things that you'll want to keep in mind when you're getting your quotes to ensure that you contract with the best company for your needs.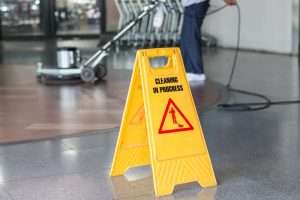 Needs Vs Offer
In a perfect world, you'd comprise a list of important things that you want from your commercial cleaner before you get a quote. Your list may include the following:
Frequency of Cleaning
Preferred date and time
Product preferences
Kind of flooring you have
Service areas (rooms etc.)
Your Budget
It's important to compare your needs to their services. A higher-end quote may include services that you don't need. Low-ball quotes may not meet your needs.
Insurance
Is the cleaning service covered with valid insurance and WSIB insurance? Should something go wrong, you'll want them to be covered. Smaller companies may not have all of this in place which will make the quote slightly lower. You may be leaving yourself vulnerable if you don't check on this. While you may be paying less, you may save more in the long run if you hire a better company with sufficient insurance.
How Long Have They Been in Business?
No one wants to hire a fly-by-night company. While they may offer smaller quotes, they may also leave the job undone. They may look great on paper; however, they've never bothered to establish themselves and are far more likely to "take the money and run". Make sure that the company that you hire has the proper equipment, insurance, and a protocol for absences (should your regular cleaning crew be unavailable, or someone be out sick). You don't want delayed services or canceled services when you're busy and relying on them.
Reputation
Have you checked references? Have you read reviews of the company? If not, you may wish to do so. It's amazing what you'll find in the fine print. If you don't see any references, ask for them. Read customer reviews and if there is an issue, see if the company resolved it where it's visible such as in the comments or review section. You want a company with a great track record and reviews. Do they have a conflict resolution policy? What about a quality check procedure in place?
For more than 30 years Excel Projects has given outstanding services to all of its clients in the Greater Toronto Region. Contact us today for your free quote from Excel Projects.