Commercial Cleaning Industry Best Practices
If you are a business owner and have office space for yourself along with your employees, you will obviously need to hire a company to manage the upkeep of your workplace. However, before you hire such a company, you need to know the cleaning industry best practices and be sure that the company adheres to them.
If the commercial cleaning service adheres to industry standards, you'll have peace of mind that the maintenance of the office is in the best hands. Here are some of the commercial cleaning industry trends that you should be aware of.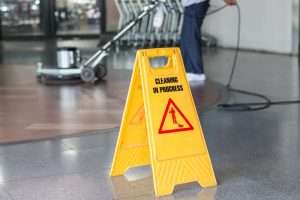 A commercial cleaning service should follow the management and regulations standards by the International Sanitary Supply Association (ISSA)'s Cleaning Industry Management Standards (CIMS) that include:
Green Building
Health, Safety Precautions
Quality Cleaning Systems
Management Commitment
Human Resources
Good Service Delivery
The company should use environmentally-friendly cleaners that reduce the negative impact on the environment and is better for the people working in the office since the chemicals used are actually less hazardous.
The company should also adhere to guidelines laid out by the Center for Disease Control (CDC). They should take special care when cleaning during the pandemic. Covid-19 has shown just how important disinfecting and sanitizing are to protecting people from being infected. A reputable commercial cleaning company should adhere to all guidelines to ensure the safety of all employees.
The company should identify frequently touched surfaces since they are the places through which germs can easily spread. Surfaces such as keyboards and mice shared by multiple employees, handles and railings, doorknobs, coffee makers, telephones, common drawers, and water coolers are frequently touched areas in any workplace.
The cleaning company should also offer cleaning services relatively frequently. While you don't wash the windows or clean the carpets every other day, it is important that regular cleaning is done almost every single day. Good janitorial and office cleaning services are critical to maintaining a healthy work environment.
The cleaning service should also adhere to safe cleaning practices. Ensure the safety of visitors along with that of those working in the office. If there are areas where people are likely to fall, they need to be blocked to prevent slip and fall accidents. Similarly, adequate warning should be provided for wet surfaces. Furthermore, if anything is broken that's likely to cause injury to anyone, it needs to be taken care of without delay.
The cleaning service should have modern commercial and industrial equipment for cleaning. A machine scrubs tiles and floors clean much better than a regular mop. Flooring that has accumulated dirt is especially challenging to clean. The best way to leave the surface sparkling is to use a good cleaning detergent and machine scrubbing.
A reliable and professional cleaning service can offer you cleaning industry best practices. They will have the experience and trained staff to handle any cleaning requirements of your workplace. A good cleaning service will ensure that they not only adhere to safe cleaning practices but also use non-hazardous detergents and polishes along with the best industrial and commercial cleaning equipment to take care of the upkeep of your office.