Does Your Business Require a Deep Cleaning?
If you have a chat with any businessperson who is doing well with their business, they will let you know that having a clean business is extremely important. This is because a clean business will positively impact customers and leave a fantastic first impression. Additionally, your business also needs to be clean so that your employers are happy and have a clean environment to work in.
When you have a clean business, it gives off the impression that it is successful. It is no secret that if you want your business to be successful, then you need to first show off an image of success. Therefore, being conscious of the cleanliness of your business is quite crucial to real world success.
Besides having an attractive business logo and brand, the actual cleanliness of your company is a main factor when it comes to gaining the attention of your audience and customers.
Unfortunately, many businesses make the mistake of underestimating how important having a clean business place is and its real impact. When you have a clean business, this is very powerful for gaining new customers. Therefore, due to the fact that cleanliness is extremely important, you would need professionals to keep your business place clean.
A lot of failed businesses typically paid very little attention to deep cleaning. When you do deep cleaning, it helps make general cleaning and upkeep a lot easier.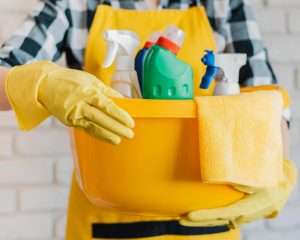 5 essential products for deep cleaning your business:
Glass Cleaner
When you look at modern offices, you will see that glass is very commonly used. When there is a lot of glass in a business or office space, it shows eloquence and even grace when utilized well. With that said, the difficult thing with glass is that it is quite difficult to clean and keep clean.
Therefore, you need to have glass cleaner in order to clean your business's glass surfaces. Glass cleaner can help to quickly and easily clean all of your office's glass surfaces so that it can be as attractive and appealing as possible. Once you use the glass cleaner regularly on your glass surfaces, this will go a long way in attracting customers.
So, having sufficient stock of glass cleaner is one of the most crucial things you need to have for deep cleaning your business.
Disinfectant
Next, the cleanliness of a space is not only related to how it looks. Your office should not only look clean, but it should actually be clean and free from bacteria, germs, dirt etc. Therefore, it is critical that you have a lot of disinfectant so that you can thoroughly clean your business place and ensure it is completely safe for your employees and customers. Disinfectant is definitely a very crucial cleaning necessity that every business should have in their deep cleaning arsenal.
Descaler
As mentioned previously, cleanliness is crucial for your business to look and be attractive. There are many things that can be done so that old parts of your office or even old items can appear much newer. One of these things is called a descaler.
You can use a descaler to make old items look newer and more beautiful. It is a good idea to use these on items that you may have had in storage for lengthy periods. It is easy to make an old item look brand new with a descaler. This makes it a very important tool when deep cleaning.
Degreaser
There are many items and machines that become greasy over time. Sadly, this grease is quite unappealing, and it could negatively impact how others view your business. Unfortunately, there are many business people who don't even know about using degreaser to clean. In many cases, they typically throw away these items or even sell them at ridiculously low prices. This is quite costly to the business.
However, this is completely unnecessary as a degreaser can solve this issue. When you use a degreaser, it can easily remove the layers of grease without much work. This will make your item look almost brand new. Therefore, when it comes to deep cleaning your business, you definitely need a degreaser.
Floor Cleaner
The dirtiest part of your business is likely your floors. This is also a very difficult area to clean since it covers the entirety of your business, and it is the most used and holds the most dirt.
When you attempt to clean your floors using typical methods, this takes up a lot of time and is quite tiring. However, when you use floor cleaner to clean them, this makes the entire cleaning process a lot simpler and less energy consuming. By using a floor cleaner, you will be able to quickly clean your floors and disinfect them at the same time. Therefore, this tool is quite invaluable for deep cleaning your business.